The Summer you Deserve with @SoleBicycles
I first heard about this 'fixie' craze last summer during a focus group I was a part of and one of the girls from Paris said she cannot live without her FIXIE!  I was really intrigued an started to do some research. For all I know, they were colorful, customizable bikes with skinny tires and one gear. The type that stops when you pedal backwards and look really cool. So I did some more digging and found a slew of companies that create Fixed Gear bikes. A lot of enthusiasts get parts and build their own and the deeper you delve into the bike culture, the more intense it gets.  This is a worldwide fad and it promotes expression, healthy exercise, community feel and a cool hobby for people of all ages. I am starting to see a lot of fashion and beauty ads that have Fixie bikes in them.
Biking is sexy, fun and totally awesome.
When I got the opportunity to connect with Californian bike company Solé Bicycles, I was thrilled to review a bike for them!  They have an amazing selection in various frame sizes, colors and finish. There is also an option of having these bikes "fixed" or 'free". The bike comes in a box and shipping directly to your home so it will need to be assembled!  Since I don't have the tools or know how to do it, I took it to my local bike ship Bike Slug to get it put together. I also got some advice from the guys at the shop about what kind of lock to get, how to use the locks properly, what lights are required by law and also suggestions of helmets as well. Biking in New York City is no joke and as a cyclist, you are considered a vehicle and can get tickets if you don't obey traffic signals. Also, no biking on the sidewalks or against traffic!
The Solé Bicycle's Late Blumer was the one really calling my name, especially with a tagline like this –
Expect to show up fashionably late but always on time with this one.
Frame: Hi Tensile Steel, Fully Tig Welded, Fork End Dropouts
Fork: Hi Tensile Steel, Tig Welded, Threadless
Handle Bars: Riser Bars
Grips: Oury
Bottom Bracket: Sealed Cartridge
Crankset: Alloy 170 MM, Alloy 48T, with 5 Bolt chainring
Gear Ratio: 48:16
Hub: Flip Flop – Fixed/Single Speed 16T
Chain: KMC
Rim: Machine/Double Walled 'Deep Dish' 45MM
Tires: Durable 700 X 25C
Valve: Presta
Saddle: Cionilli Plush Rivet Fixed Gear Seat
Seatpost: 25.4 X 300MM
Total Weight: 26 Pounds
The seat is adjustable and I got the smallest frame size (49 cm) available for my 5'3 self. The seat is really comfortable and the rubber handle grips are have SOLÉ logo on it. There is one hand brake on the left side. I might get another put on for the right side too so I feel more symmetrical. When I brake, I have to get off the seat to put my feet on the ground. I also ride right up to the right curb and put my foot down when waiting for the light to change. When I get back on the bike, I push the pedal to the highest position, 10:00 and then I step down and swing my other leg around to get up on the seat. I haven't wiped out yet so wish me luck.
Even though I also really liked the Zissou (below) as well, I wanted black handle grips because the white ones will surely get dirty from NYC pollution.
So since I got my bike, everyone wanted to test it out!  So we took it for a spin around the block and my husband took pics for me!
Then Tai rode it down the block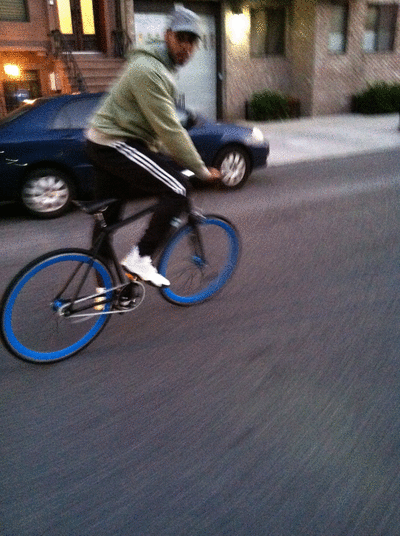 Then our neighbor Johann took it for a ride too!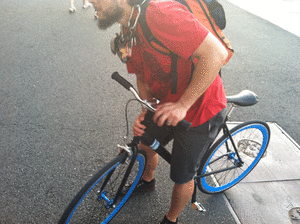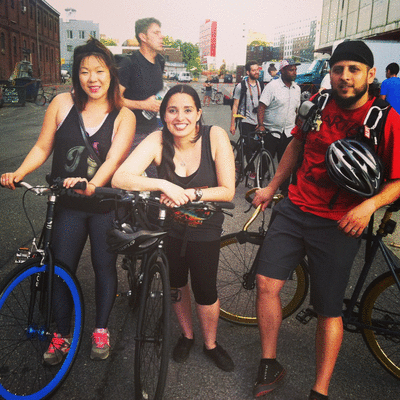 Really happy about the Solé I got and I am so excited to ride all over the city and experience Brooklyn in a totally new way this summer. Being a total fixie newbie, the price of the Solé is a great entry level bike. I just wanted something colorful, fun and affordable and I found that all at Solé. I love their website and the "FIXtapes" you can download. Coming from Venice Beach, everything they put out is a summer anthem.  Even though the obvious favorite color for me is pink, I realize that blue is my second favorite color. I see a lot of blue in my life lately and I like it. Thank you Solé for giving me a kick start to a fantastic summer and the opportunity to review your beautiful bicycles!
Now all I need is a cute backpack, bike bell, and maybe those cool tire GIF's  lights meow!

Check out the summer sales and all the colors you can get. http://www.solebicycles.com/collections/bikes