The Best Summer Kids Accessories with Canadian brand bblüv
Babies and toddlers are safe with bblüv products
I have never heard or this baby brand until recently and I love the design of everything they carry! Focused on kids aged 1-4 years old, their modern yet cute colors and characters put their products on my must have list for Niko. Even better, this company is family owned and Canadian too!
Let me show you what they have ready for this summer: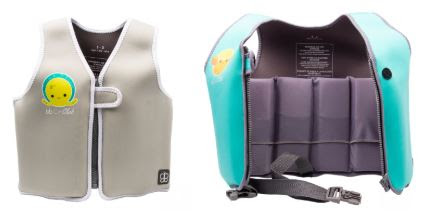 The Näj neoprene swim vest helps kids stay warm, even when the water isn't bathtub temperature, while they learn to swim! Available in Aqua or Grey, this swim vest comes with eight removable floats, to gradually reduce buoyancy as the child learns. With full 50+ SPF sun protection and a safety strap to keep the vest in place, little ones can take their first paddles in safety and comfort.
These flexible water shoes, Shoöz, Size XS for Niko at 4 months old below
Protective Water Shoes
The Shöoz are perfect water shoes to protect baby's feet at the pool, beach, lakes and any outdoor activities, while being as comfortable as a pair of socks. Let your baby safely explore his surroundings with these flexible shoes.
Features
Ideal for both the beach and the pool
Protect baby's feet from hot sand, shells, sharp rocks, wood splinters, and rough surface around the pools
Soft, isolated and durable neoprene fabric that keeps feet warm
Ultra flexible and non-slip soles for reliable traction
Easy to slip on and take off
They float on water so they never get lost
Vibrant colors and stimulating patterns
Very light: only 77 grams
Machine washable & dry very quickly
Available in 2 colors (Aqua/Grey) and 4 sizes (1 to 4 years old)
Since we live in Vegas, something like this is important for the very intense summers we have. These safe and fun water shoes are awesome! I think Niko will be able to fit into these by July or August when it's super hot in Vegas!
Sölar are the perfect baby and toddler sunglasses: made to last! With ultra flexible frames, full UV protection and polarized lenses for added clarity, these sunglasses are a must have for days by the water. Available in Aqua, Lime or Pink, parents love them because they're durable and reversible but kids will love them because they're cool!
There is an additional strap you can use to ensure they stay on! We have used the Sölar sunglasses on our walks, by the pool, and in the car already. With his little nose, the strap really helps 🙂
Optimal protection against UV rays
Ultra-resistant and flexible frame
Reversible and polarized sunglasses for better clarity and comfort
3 colors available (aqua – lime – pink)
Carrying/cleaning pouch and cord included
Dimensions (inches): 5.5 x 5 x 1.6
Ages 0+
Find out more about bblüv and shop for your summer vacation on www.bbluvgroup.com