HELLS ya…. Google Wave hopes to replace e-mail as the main way people communicate online.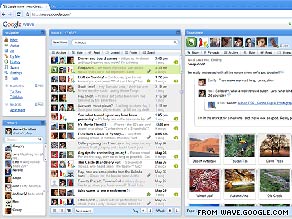 I am so excited about this.. You should be too. The Web application from Google Inc. combines elements of e-mail, chat, Wiki documents, blogs and photo-sharing sites to create a form of Internet communication called a "hosted conversation," or a "wave."
Google demonstrated Wave at the Google I/O developer conference in San Francisco, California, in May. The closed group of beta testers will help Google fish bugs out of the application before a public release by the end of the year, according to the Google Wave Web site.
The app was created by Jens and Lars Rasmussen, the Australian brothers who developed Google Maps. The Rasmussen brothers said they hope Google Wave will eventually replace e-mail as the main way people converse on the Internet. "This should be something everybody uses and something everybody knows," Jens Rasmussen said.
In Wave, e-mail-like communications can be edited by several users simultaneously. And users can chat about certain sections of Wave documents in real time, where all users see what a person is typing as it is typed. If a person comes to the conversation late, they can replay everything they've missed.

The Rasmussens hope these functions will make online communication more efficient and collaborative.

100,000 beta testers will be released Wednesday. So if you have one, please send it to me! yvonne@heydoyou.com
What do you think? ICQ, MSN, FB, TWITTER, BBM + GWAVE? Share your thoughts!