BeautySoClean + Giveaway!
Today, my friends, I'm going to share with you one of my favorite products I have. This isn't something you need to do your makeup everyday but it's something that will help you in the process. At The Makeup Show LA, I got a chance to pick up some BeautySoClean products and I LOVE them! The products are made to sanitize and disinfect your makeup and the tools you use to apply them. I picked up the cosmetic sanitizer mist, the brush cleaner, and some of the sanitizer wipes.
The cosmetic sanitizer mist is an all around great disinfecting product and it refreshes your products so you can use them longer. The mist can be used on any pressed powders like eyeshadows, blushes, foundations, concealors, etc. Basically you spray the mist on to your product and within seconds the mist will dry and leave you with a ready-to-use, sanitized product.
Now the conditioning brush cleanser has to be my FAVORITE! It comes in a great light mist bottle. You spray it directly on to your brush, brush it on a tissue or paper towel, and within seconds you're ready to use it again. It's great when you want to reuse your brush and remove all color that's already on it. No waiting for your brushes to dry anymore!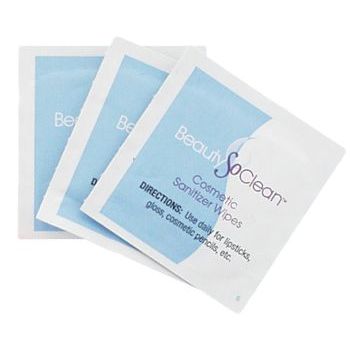 Finally, look at these cute little wipes. Perfect for on-the-go! The sanitizer wipes are great for cleaning your eyeliners, mascara wands, eyelash curlers, etc. I like to use this on my sharpeners. Not only are my sharpeners always really dirty from different colors being sharpened but i'm sure there is so much grossness and bacteria going on… that's how you get PINK EYE! No one wants pink eye. I really like to clean my lipgloss wands too. Pet peeve of mine is when the wand changes colors from applying if over other colors so I use the wipes to clean it off! I also use the wipes when i'm not at home. I don't like to carry around the bottles so i'll carry a few of the wipes in my makeup bag and you can dust your brushes on the wipes and it does the job well!
The BeautySoClean products are the best way to prevent spreading germs whether it be bacteria from using your makeup on others or even your own germs. I guaruntee you that after using their products, you'll see less blemishes because your makeup and tools are cleaner and your makeup will last longer because you don't have oils ruining your powders. TRY IT!
GIVEAWAY TIME!
I will be doing a giveaway of a mini Cosmetic Sanitizer Mist and Cosmetic Sanitizer Wipes with a little kit explaining the products and a DVD!
To be entered to win the BeautySoClean mini kit, DM me on Twitter saying "BeautySoClean". Winner will be chosen randomly in a week!
xo, June 🙂