Saturday @GoogaMooga @MrEddieHuang
Brooklyn's Prospect Park was a ZOO this weekend.  For those of you who were at Electric Daisy, I dare say we MIGHT have had more fun.
The first ever Great Googa Mooga took place and there was, what we Chinese call – People mountain, People Sea. A whole lotta folks!


The stage had an incredible lineup of music like the Roots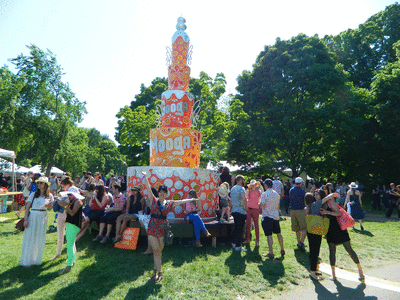 http://picasion.com
Check out this oh so cute Dr Suess Cake


There was a TON of food! Over 75 NY's Finest restaurants were represented


Hey Disqus – Bloggers world wide thank you!


cute outfit!


Huge line ups everywhere


If you missed out this weekend… You gotta wait til next summer


Chef April Bloomfield of the Spotted Pig


The brains behind Googa Mooga and owner of Baohaus Eddie Huang

The overall feedback was that there was a LOT of walking and lining up but with the sunny weather and friends to keep you company, GoogaMooga was a huge success and exactly what New York needed!  Fresh talent, great music and phenomenal food.
Thanks for a delicious weekend Brooklyn!
www.googamooga.com