Invasion Collections by @BoyMeetsGirlUSA
Stacy's show was a smashing success!  I am so glad that I went to check out the brand new Boy Meets Girl collection.
My fav piece was the blue/pink panel black leggings on the top right below. Super cute.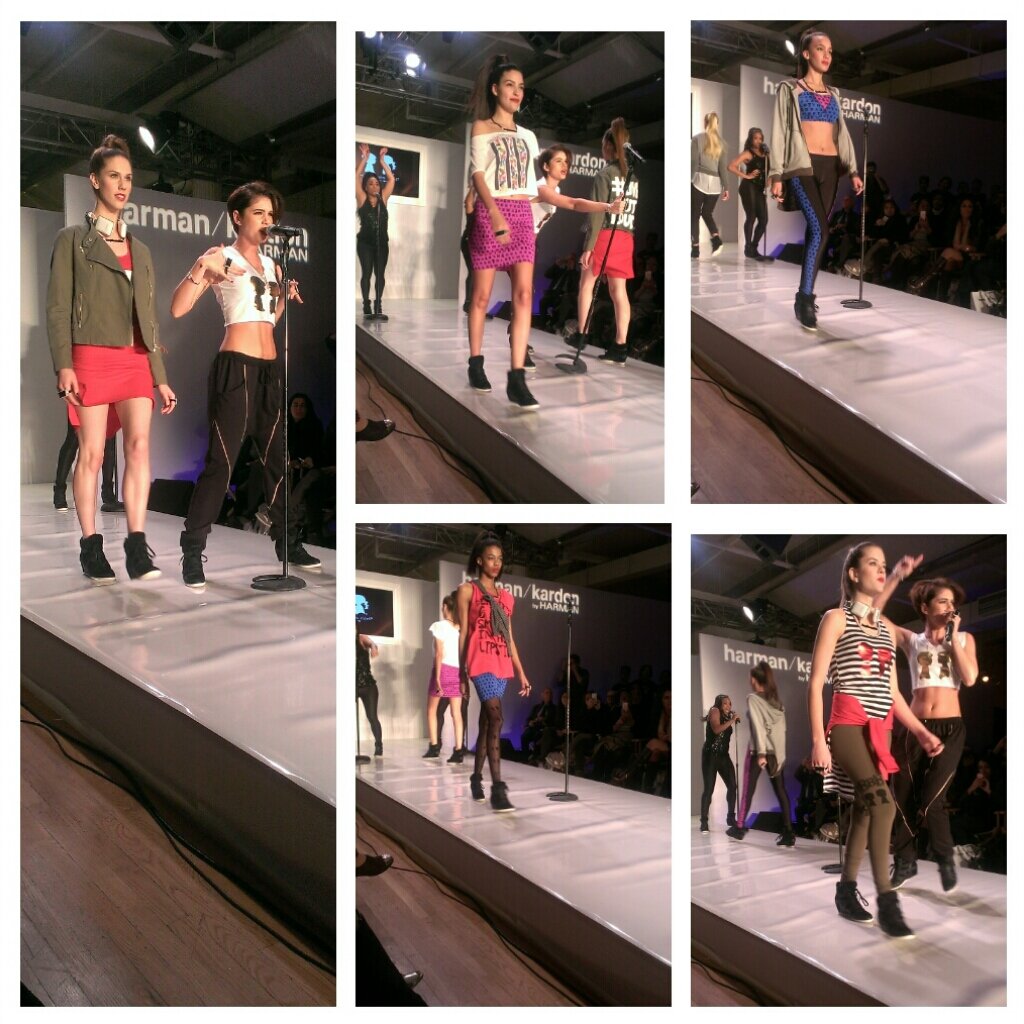 Boy Meets Girl® by Stacy Igel returned to New York Fashion Week with the "Invasion Collections" on February 13th. This high-energy, electric show featured not only the popular Boy Meets Girl® Classic Collection but two new collections, Boy Meets Girl® University and Boy Meets Girl® GIRLS.
"This season I was inspired by the "BritPop" music scene of the early 90s where bands such as Oasis, Blur, Suede, and later on The Spice Girls, developed a unique British reaction to the various musical and cultural trends of the period in the United States at that time," says Stacy Igel, Boy Meets Girl® Founder/Creative Director. The Boy Meets Girl collection incorporates loud "pops" of color, and fun, edgy and unapologetic phraseology and imagery.  This invasion is all about attitude, and attitude is age-defying. That's why we're introducing three collections this season, Boy Meets Girl® GIRLS, University, and Classic."
Stacy was also inspired by the sleek and beautiful design of Harman Kardon® headphones where she incorporated these functional and fashionable accessories down the runway.  The shoes featured in the show were by Go Jane and the jewelry was a collaboration between MelodyEhsani and Boy Meets Girl®.
The show also brought attention to BullyBust, a national bully prevention campaign, where Stacy serves as an Upstander Ambassador.  EPIC Records recording artist Leah LaBelle topped off the show with a live performance while models strutted down the runway, including YouTube star and model Cassandra Bankson, who walked in the show for a second time to support the anti bullying movement.  The Real Housewives of New Jersey TeresaGiudice's daughter Gia, who herself has been bullied in the past walked in the show, as well as Matchmaker Siggy Flicker's daughter Sophia.
Celebrity Guests included Rosario Dawson (Actress), Jermaine Dupri (Musician), Paula Garcés (Actress), Lenay Dunn (MTV Host/Actress),Joanne Nosuchinsky (Miss New York USA 2013), Nikki Orlando (Miss New York Teen USA 2013), Alex McCord (Real Housewives of New York), Miri Ben-Ari (Musician), Carla Facciolo (Mob Wives), Wynter Gordon (Atlantic Recording Artist), Baiyu (Singer), Brandon Michael Vayda (Actor), Kerry Rhodes, (Arizona Cardinals), Michael Coe (Dallas Cowboys) and many more.
About Boy Meets Girl® by Stacy Igel
Boy Meets Girl® founder, Stacy Igel, began her career at the ripe old age of 4, styling her pre-K classmates and staging fashion shows in her school's cafeteria.  Igel honed her skills further working with iconic brands and personalities such as Izod, Elie Tahari, Zandra Rhodes and Elsa Klensch, Igel founded Boy Meets Girl®, an edgy yet wearable, stylish yet casually classicyoung contemporary brand.  Boy Meets Girl® has been featured in premier publications including InStyle, Teen Vogue, Lucky, People, Cosmopolitan, Seventeen and the New York Times, and has been photographed and on high-profile fashionistas such as Eva Mendes, Nina Dobrev, Rosario Dawson, Vanessa Hudgens, Michelle Williams and Kristen Bell.  The brand is also the official staff uniform for the exclusive members-only club, The SoHo House. Igel is currently developing a lifestyle news and reality series for a major television network and a cosmetics brand with a television retail partner. Igel has received numerous design awards and honors, and is a frequent lecturer and panelist on subjects including social media, branding and entrepreneurship.