Doggie Time by @mochijolie from @uncommongoods
If you are a fan of cutesy awesome products from SUCK UK or Fred Flare you have to check out my new discovery – Uncommon Goods. 
I found this website while looking for a present for all my Virgo and Libra friends and for my husband who is on the cusp.  This site is extra cool!  They have a huge range of items are really are 'uncommon' and full on indie design options for everyday items. Need some accessories for your phone?Check it out here
Already planning for Christmas? Get a head start on Stocking Stuffers here.
Going to a housewarming party? Birthday party? Just because?  Find an array of amazing items here !
Their most Pinterest friendly item must be the shower squid. (Which I also want badly!)
Uncommongoods have a great range of indie artist who create perfectly chic items that make great presents. The best part is that they have carefully curated content with really great prices. While I was going through the site, I discovered a LA based brand called Mochi and Jolie.  They create dog watches that have silhouettes of different breeds.
"Time with your canine friend isn't measured in dog years, but in walks, cuddles, ball catches, and treats. Now, with these playful watches, you can keep your puppy with you every minute of the day, even when you have to be apart. Each one features your choice of breed on its face, capturing those distinctive features in a profile silhouette on its face. The clear plastic wristband and housing make the watch easy to match with any outfit. It's a perfectly fetching accessory for any dog lover. Japanese quartz movement. Watch battery included. Made in Hong Kong."
I think the Labrador one looks most like Jacob so I got this one!  The clear straps make it so fashionable and easy to wear and the design is beautiful! I got several compliments the first time I wore it. It is extremely lightweight and great for walking the dog and keeping track of time. I don't want to take my phone with me everywhere but I still want to know what time it is. The face is totally numberless and the second hand is extremely quiet. The straps are clear with a slight purple on the edges which I love.  I also like that it is quite flat so it is easy to wear under long sleeve, jackets and sweaters.
Best of all, it looks just like my dog Jacob!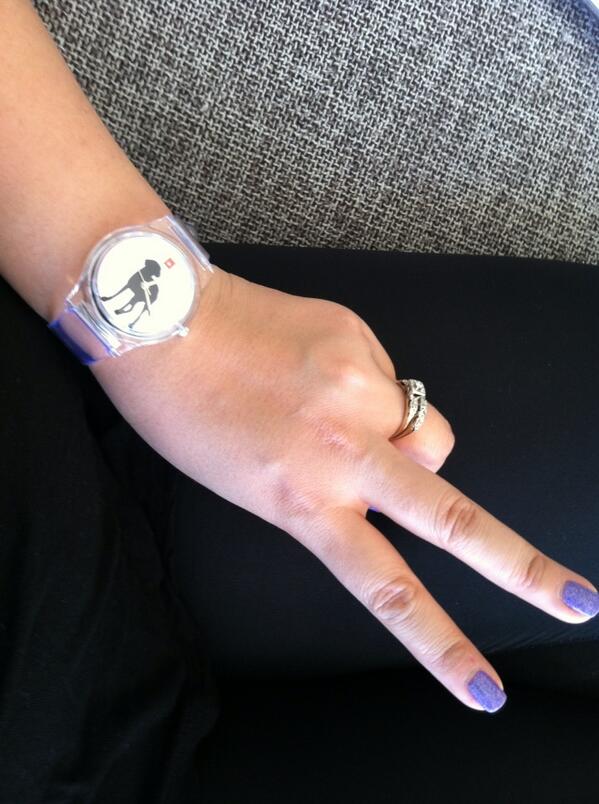 The Dog Watch is $65 and available on http://www.uncommongoods.com/product/dog-watches
Founded in 1999 and headquartered in Brooklyn, New York, UncommonGoods is an privately-owned retailer that endeavors to feature unique designs and handcrafted gifts created in harmony with the environment and without harm to animals or people. We run all our operations out of the historic Brooklyn Army Terminal, including our warehouse where the lowest-paid seasonal worker starts at 50% above the minimum wage. We make it our mission to support and provide a platform for artists and designers; in fact, half of what we sell is made by hand. Most of the products we carry are created right here in the USA, and about one-third of our entire collection incorporates recycled and/or upcycled materials. At the core of our company is a great respect for the integrity of the creative individual and the belief that it is our responsibility to use our business to impact the world in a positive way.
Some cool facts…
•  Design Challenges: Get your work out there and join our community by participating in our product design and art challenges.
•  City Harvest strives to end hunger in communities throughout New York City through food rescue, distribution, and education.
Small Business, Big Ideas
In 2012 UncommonGoods CEO Dave Bolotsky joined representatives from 14 other privately-owned businesses at the White House to discuss the impact of President Obama's economic policies on small businesses. Read more about Mr. Bolotsky's trip to Washington on uncommongoods.com