Organic Cotton Sherpa Hat for Fall by @DotsonTots1
September is Baby Safety Month and keeping baby safe and secure is a top concern.  Simple safety measures like protecting children's ears and head can go a long way – studies show that the younger the child, the less resistant they are to infection and the more likely they are to catch colds, viruses and sickness.
A healthy baby is a happy baby!
I recently discovered the Dots on Tots, a handmade line of children's hats created for children newborn through toddler stage with innovative designs to keep the skin, head and ears protected. There are a few different styles and all of the products truly get the parenting safety stamp of approval.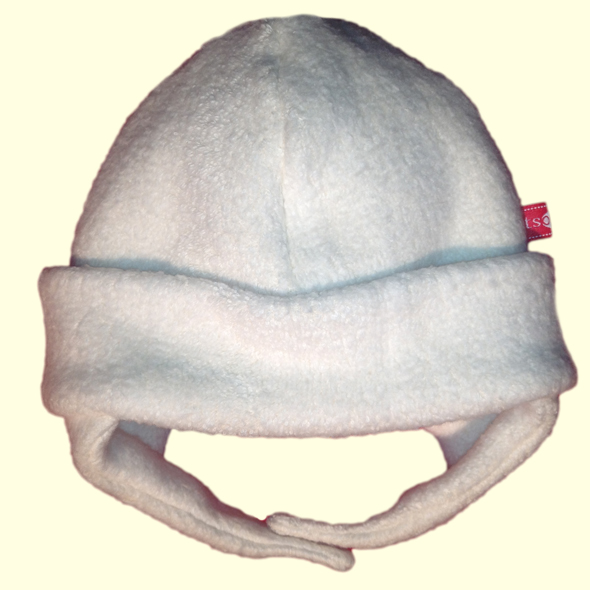 100% certified organic soft baby cotton.
Hat is double layered, seamless with soft Velcro (hook and loop) closure on the flaps.
Sherpa fabric is a soft, versatile pile knit. it has a napped face and a soft smooth back.
It's derived from knit terry and shares the same properties as knit terry and velour. Sherpa is breathable and an excellent absorber.
Fabrics and hats are made in the USA. Each hat is carefully wrapped in tissue paper with little thank you note and packed in our signature eco-friendly, recyclable pillow box.
It is also my little cousin's 2nd birthday!  Michael is the happiest baby ever and I asked for his expertise to review this hat.
So excited and loves the hat!
Michael gives the 100% Organic Sherpa Hat two thumbs up!
A huge thank you to the founder of Dots on Tots, Olivia Entin for creating this great hats! Excited for Fall?
A mother of two from New York, Olivia Entin stumbled upon what would become the inspiration behind her flourishing business when she was searching for the ideal clothing for her children. Perusing sites, shopping malls and clothing aisles, Olivia noticed that missing among the numerous racks of clothing was a line of baby accessories that provided safety and optimal comfort for children as well as a fashion-forward appearance. As newborns and toddlers have sensitive skin and are vulnerable to ENT ( ear, nose and throat) complications, Olivia knew that she, as well as other new parents, needed a line of accessories that keep babies safe by covering their ears and at the same time not harming their sensitive skin. With her Master's Degree in Fashion Design and Technology and an experienced mother, Olivia set forth with the support of her family to provide the children's market with a niche product that would provide safety and comfort to children and began her small business, Dots on Tots.
You can get the Sherpa Hat on http://www.dotsontots.com/for $34.99 and it comes in S, M, L