Outdoor Summer Fun for Babies and Kids with Starlux and bbluv
bblüv and Starlux Games have everything you need for all day activities that keep babies, toddlers, and kids happy and engaged
As summer comes along, parents want safe, engaging ways to keep kids outdoors and playing. With younger children, safety is the paramount concern, and with older kids, it's about finding ways to have fun that don't involve a screen!
bblüv and Starlux Games have the latest and greatest ways to make sure that this is the summer of getting dirty, playing hard and creating good memories for everyone from the littlest one to Grandma!
Babies and toddlers are safe with bblüv products
The bblüv Nidö Mini is a 2 in 1 play tent with full UVA / UVB protection, that keeps baby safe from harsh rays, wind and sand at the beach, or just when hanging out on vacation with the family. The comfortable removable mat helps baby catch a nap wherever they are, and the canopy with retractable mesh keeps the sun and bugs at bay.
The Arenä is a pop up beach pool that can help little ones stay cool on a hot day, while keeping them safe and out of the waves. With its instant set up and durable waterproof fabric, this little paddling pool will keep them entertained for ages.
The Sunkitö pop up tent helps bigger kids take a break from the sun, sand, wind and mosquitoes. With full 50+ SPF protection, netting that can be fully opened and a quick pop up system for easy set up, this is the perfect accessory for a beach vacation. No missed naps, no whining!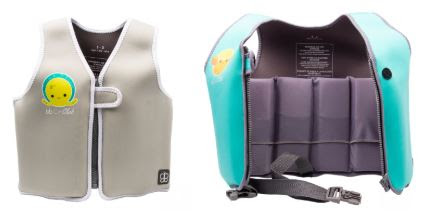 The Näj neoprene swim vest helps kids stay warm, even when the water isn't bathtub temperature, while they learn to swim! Available in Aqua or Grey, this swim vest comes with eight removable floats, to gradually reduce buoyancy as the child learns. With full 50+ SPF sun protection and a safety strap to keep the vest in place, little ones can take their first paddles in safety and comfort.
These flexible water shoes, Shoöz, keep little feet protected at the pool, on the beach or by the lake. With non-slip soles that protect from rocks, shells, hot sand and more, these easy to put on shoes have the added bonus that they float. No chance of losing them! Available in Aqua or Grey for kids 1-4 years old, these are a fun accessory that the kids won't mind wearing at all!
Sölar are the perfect baby and toddler sunglasses: made to last! With ultra flexible frames, full UV protection and polarized lenses for added clarity, these sunglasses are a must have for days by the water. Available in Aqua, Lime or Pink, parents love them because they're durable and reversible but kids will love them because they're cool!
Kids of all ages (and even mom and dad) can enjoy outdoor games from Starlux
For anyone who has ever been to camp, games like Capture the Flag were a staple of everyday play. Starlux Games has created games that are best played at dusk, with fabulous glow-in-the-dark accessories to add a fun twist to an old favorite.
Capture the Flag REDUX — This game for ages 8+ can accommodate up to 20 players for an hour or more of energy burning fun! With 12 alternate ways to play, glow bracelets, jail markers and glowing orbs to use as the flags, getting a group together from some serious outdoor fun will be easy!
Glow in the Dark Swimming Pool Games — Who says a pool is only good for fun in the daytime? 10 different games in one kit, complete with glowing accessories to add a thrill to the fun. Whether to up the level of the pool party or just because it's a Tuesday, these games will allow family and friends to get more use out of the pool this season, and less time spent staring at a screen!
Glow Battle — Whether a Star Wars like battle scene is the goal, or perhaps a game of Gladiators, the Glow Battle games will help kids of all ages ten ways to work as a team, use strategy, and build their wits all while having a tremendous amount of fun! Suddenly, a slumber party becomes an activity filled night that will have everyone sleeping soundly later on!
There's something for every age and stage to add to the summer fun, all while being safe and enjoying the great outdoors!