O-EM-GEE! I found Isle of Eden researching for my Beauty Chemistry final project and I am in LOVE!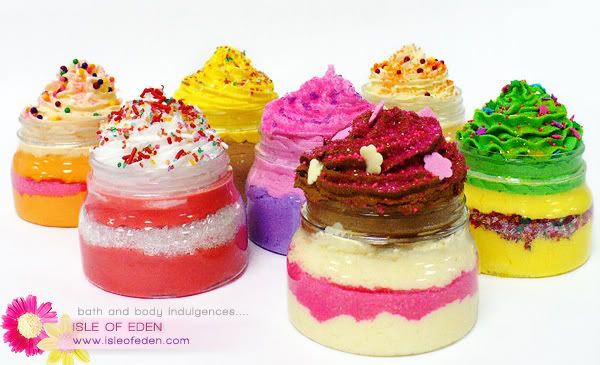 They are a company based out of Merritt Island, Florida. The brainchild of this fantastic line is Alexa – Here's her MySpace. They make beautiful and scrumption bath and body products that are to DIE for. This is what I want for my birthday, for Christmas, for Valentines day and for every occassion from this day forward! Each and everyone is custom made and made to order to check out their TAT (Turn around time… if you are buying it for a present). There are only a few thing in life that make my heart sing! And Isle of Eden is one of them. LOVES

This is true creativity and you can just tell how adorable, fun, cheeky and lovely the creators must be. Just check out some of their newest scents. Just reading the list makes me giddy.
7 Strawberry Lane
Our Best Selling Strawberry! Nothing but Pure, Juicy, Strawberry Bliss here! Succulent and Sweet!
Banana Rice Crispy Treaties
O.k., who doesn't love those Delicious Marshmallow and Rice Treats? Add a little Banana Frosting, and it's total yum!
Be My Sugar!
Sugar Overload! Fresh-Cracked Coconut Milk, Swirls of White Sugar, Light Brown Sugar, Brown Sugar, Madagascar Vanilla Beans, White Cake infused with Puffed-up Giant Marshmallows, and a slight whisper of Creamy Pink Sugar.
Birthday Party's Forever!
Let's have an everlasting party! Sparkling Fruit Punch, with Vanilla Ice Cream floating on top, sprinkled with Grape Pixie Stick Sugar. What else for this party? How about a slice of Yellow Cake with Creamy Frosting and tons of Candy-Colored Sprinkles? This will surely get the party started!
Blood Orange Cotton Candy
A Summer Favorite! Italian Blood Orange, and Sweet Cotton Candy. Best Seller!
Blue Ballgown
Before you head out the door, slip into this combination of sensual dark blue sugar, fresh baked white cake and sultry warm vanilla pods. Your chariot awaits, beautiful!
Brown Sugar, Granola & White Chocolate
Sweet Brown Sugar, Delicious Granola and a Drizzle of White Chocolate.
Bunny Crack
Dreams come true for all Bunny Rabbits with this Fanciful Treat! Loads and loads of Sugars, Fluffy Carrot Cake, Coconut-Lemon Buttercream Frosting, Juicy Lemon Slices and Orange slices covered in Huge Sugar Crystals.
Can't Sleep, Cherries Are After Me!
A Dark Twist on a Sweet Treat! Freshly-Spun Pink Cotton Candy, Funnel Cake with Powdered Sugar, and Dark, Delicious, Candied Black Cherries!
Can't Sleep, Marshmallows Ate Me!
An amazing twist on our best selling Can't Sleep, Clowns Will Eat Me! Imagine sugary-sweet Marshmallow Cotton Candy, Marshmallow Funnel Cake, and Candied Marshmallow Apple. You'll want to devour it in just one bite!