Lucky Ducks Game for Toddlers
There are countless benefits to instilling quality memory and matching skills into children at a young age! I'm happy to name a few, such as:
An improved sense of concentration
Enhancing their visual memory
Increasing short term memory
Elevated attention to detail
A heightened vocabulary
All of these skills will stay with children forever, increase their capacity for empathy, and ultimately shape them into better humans to lead tomorrow.
It's incredibly easy for parents to integrate practicing these skills into their kid's daily routines! Lucky Ducks is a phenomenal "my first game" focused on matching.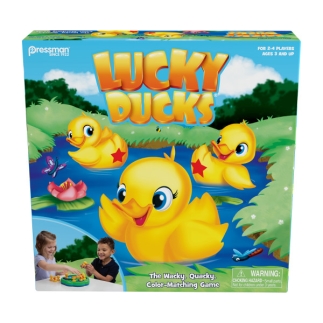 This wacky, quacky memory and matching game combines developmental skills for young children with the fun, while helping kids with shape recognition and colors.
Switch on the circular pond, and the ducks start swimming – the bottom side of each duck has a colored shape. Players take turns picking up a duck and looking at the color and shape; if it matches their colored shape, they get to keep the duck.
If it doesn't match, they put it back. The ducks continue to swim, so it's more challenging than a traditional memory game but easy enough for even the youngest duck lovers to play.
The first player with 3 ducks that match their shape wins! For 2-4 players, ages 3 and up.
Simple format is easier for little fingers than cards and allows for independent gameplay
More than 10 million units sold of this popular childhood game
On sale at Walmart